Upcoming Events

The Louisiana Historical Society
(Officially the State Historical Society since 1836)
requests the honour of your presence
upon the occasion of its
Banquet
In Commemoration of the Two Hundred and     Second Anniversary of
The Battle of New Orleans
and the Lasting Peace thereafter between the United States and Great Britain
5:30 O'Clock
Sunday, January 8, 2017
New Orleans Country Club
Black Tie
Please complete the form below and mail to (must be mailed before December 31 to ensure timely receipt):
The Louisiana Historical Society
1623 Peniston Street
New Orleans, Louisiana 70115Please refer any questions to Nora Wetzel at 
wetzel.nora@gmail.com
Please reserve ______covers for the Society's annual banquet on Tuesday evening January 8, 2017, at the New Orleans Country Club, 5024 Pontchartrain Boulevard, New Orleans.  In payment for this reservation, I enclose my check payable to the Louisiana Historical Society in the amount of  $___________ at the price per person of $125.00 for members.  Non-members may attend at the price per person of $160, which includes a membership for 2017. Attendance is strictly limited.
Signature_______________________________________________________
Please print name   ______________________________________________
Please indicate preferred dinner partners  __________________________________________________
Deadline for Reservations – December 31, 2016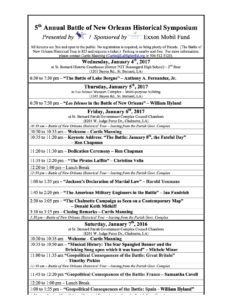 ---